COMMODITIES
Our trading systems are effectively used when trading major exchange-traded commodities, such as Gold, Oil, etc. Work is possible both on the futures and spot markets, including through CFDs.
The following are the main statistics on the trading portfolio currently used for trading gold contracts.
The graph of the profitability of a trading portfolio without reinvestment of profit with a deposit equal to 100000 USD(1):
​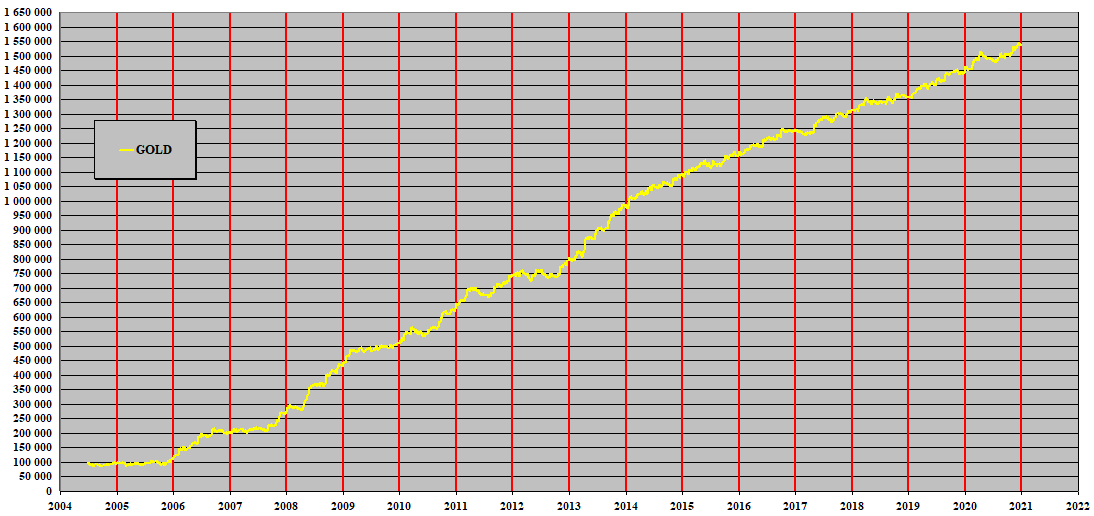 Portfolio statistics(2):
| | GOLD |
| --- | --- |
| Compound annual growth rate, % | 103.85 |
| Maximum historical drawdown, % | -33.1 |
| Maximum drawdown duration, months | 18.2 |
| Best year, % | 425.7 |
| Worst year, % | -4.2 |
| Best month, % | 82.72 |
| Worst month, % | -23.44 |
(1) The graphs are presented without reinvestment to demonstrate the nature of graphical dependencies at different periods of history. The graphs obtained in real conditions, when reinvesting profits, differ.
(2) Due to the full automation, trading systems can be configured for both higher and lower performance, within the framework of the leverage offered by the broker or the guarantee of futures contracts.
© ForexTechno.com, 2006—2021
The profitability obtained in previous periods does not guarantee the same profitability in the future. All trading results presented on this website should be considered as hypothetical. Any information on this site is intended only for persons who have reached the age of 18 and are citizens and / or residents of those countries where its use is not prohibited by law.
Risk Disclosure: Investing in financial markets has a high level of risk and is not suitable for all investors. Before making an investment decision, evaluate your experience, investment goals and attitude to risk. You may lose some or all of your invested funds, so do not invest funds that you cannot afford to lose.
Disclaimer: All information on this website is provided for informational purposes only and does not constitute an offer or investment recommendation. To make an investment decision, consult your investment adviser. Site Administration forextechno.com it is not responsible for financial losses and any other possible damage resulting from the use of the information provided on this site.