AGGRESSIVE PORTFOLIO
An aggressive trading portfolio is completely identical to a conservative portfolio in terms of the set of trading systems included in it. At the same time, the aggressiveness of trading is increased by 4 times, due to a corresponding increase in the level of risk that falls on each transaction made.
This portfolio allows you to use the invested funds more efficiently, but it is only limited in the management of large capitals due to increased margin requirements.
Therefore, it makes sense to consider this portfolio as a short-term tool for active private investors who want to receive superprofits at the price of increased risks.
STATISTICS
Logarithmic graph of portfolio return with an initial investment of $1, (USD)
​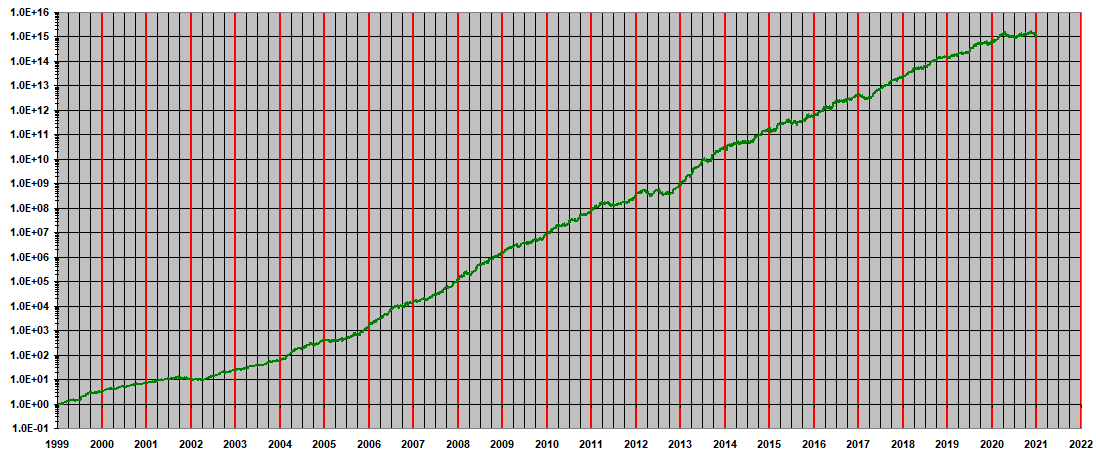 Portfolio profitability charts by years, (%)
​
Histogram of portfolio return by years, (%)
​

Portfolio drawdown depth graph, (%)
​

Portfolio drawdown duration graph, (Days)
​

Histogram of portfolio return by months, (%)
​

Table of portfolio return by months, (%)
​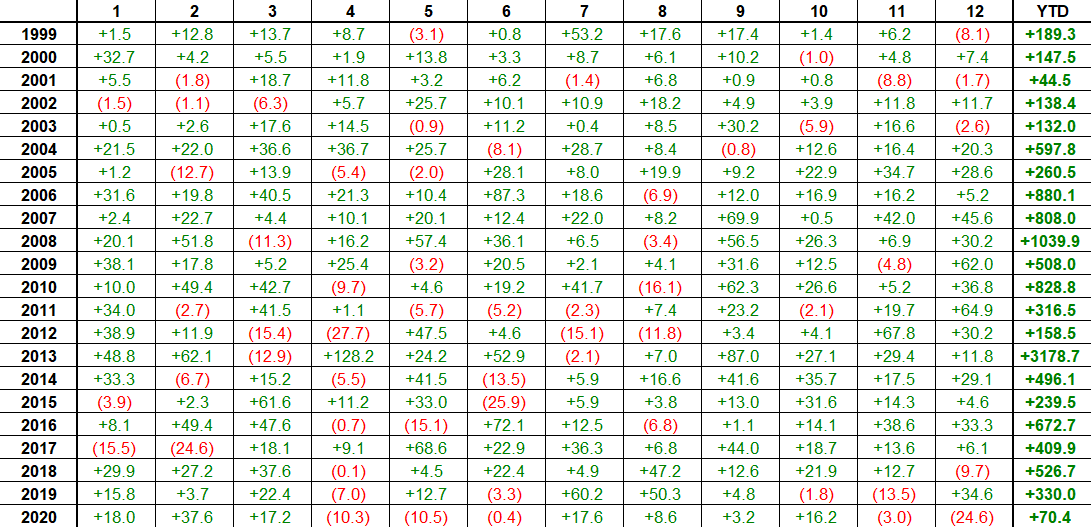 Summary data:
| | |
| --- | --- |
| Maximum leverage | up to 1:67 |
| Compound annual growth rate | 382% |
| Maximum historical drawdown | (-47)% |
| Maximum drawdown duration | 9.2 months |
| Best year | 3179% |
| Worst year | 44.5% |
| Best month | 128% |
| Worst month | (-27.7)% |
| Best day | 34.3% |
| Worst day | (-14.4)% |
| Typical daily profit | 2.67% |
| Typical daily loss | (-1.76)% |
| Risk per trade | 0.5% - 1% |
This trading portfolio can be periodically improved and re-formed. At the same time, its main characteristics, if possible, will be maintained at the declared levels.
The presented results should be considered as hypothetical. In the course of further work, the results may deviate both for the worse and for the better. At the same time, it should be borne in mind that there is always a probability of receiving losses exceeding the calculated levels. As a pessimistic forecast of the correct operation of the portfolio, we can assume the possibility of a deterioration in its trading indicators by 1.5-2 times.
© ForexTechno.com, 2006—2021
The profitability obtained in previous periods does not guarantee the same profitability in the future. All trading results presented on this website should be considered as hypothetical. Any information on this site is intended only for persons who have reached the age of 18 and are citizens and / or residents of those countries where its use is not prohibited by law.
Risk Disclosure: Investing in financial markets has a high level of risk and is not suitable for all investors. Before making an investment decision, evaluate your experience, investment goals and attitude to risk. You may lose some or all of your invested funds, so do not invest funds that you cannot afford to lose.
Disclaimer: All information on this website is provided for informational purposes only and does not constitute an offer or investment recommendation. To make an investment decision, consult your investment adviser. Site Administration forextechno.com it is not responsible for financial losses and any other possible damage resulting from the use of the information provided on this site.